The Dual Cash Flow Crisis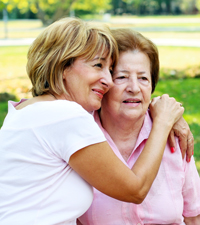 The experienced elder law attorneys at The Elder Law Firm PC know that medical issues can quickly devastate a retired couple's finances. When a married couple faces a medical crisis involving one spouse — and that spouse requires long-term care outside of the home — the healthy spouse faces the risk of a dual cash flow crisis. A dual cash flow crisis emerges when the monthly expenses of a couple continue as normal, but there is an additional expense for skilled nursing care. Often, over the course of only a few years, the healthy spouse ends up spending most of the couple's retirement assets to pay for the costs of long-term care. The result is impoverishment for the healthy spouse, who is left with little to nothing to support normal living expenses.
A Dual Cash Flow Example
Based on the hundreds of stories we hear every year, the following is designed to show the impact of a dual cash flow crisis on an average couple. Mr. and Mrs. Smith have the following income and assets:
Social Security: His - $1,500/month, Hers - $800/month
Home: $150,000
Cash & Other Assets: $250,000
Based on the above information, if an intervening medical crisis happened to Mr. Smith, and he needed long-term skilled care in a nursing facility, their monthly expenses would increase by $6,500 a month. This additional outflow would come first from Mr. Smith's Social Security check and then from their cash accounts and other assets. Meanwhile, Mrs. Smith is still living at home and paying their normal monthly expenses from her Social Security check. If there isn't enough income, she will have to dip into their cash accounts and other assets, as well. The end result:
WITHOUT PLANNING:
Monthly Income: $2,300/month
Monthly Costs: $8,500/month ($2,000 household + $6,500 nursing home)
Monthly Shortfall: $6,200
Annual Shortfall: $74,400
---
A Call to Action
So, how long would your life's savings actually last? One of the primary reasons to plan now is to prevent spousal impoverishment. No one ever wants to believe that a medical catastrophe can happen to them, but dual cash flow crises can and do happen. At The Elder Law Firm PC, one of our first objectives is to make sure that a medical crisis does not impoverish the healthy spouse.
Michigan Elder Law Attorneys at The Elder Law Firm PC provide assistance in protecting your assets and protecting your family through trusts, wills, Medicaid and estate planning.  Contact us by calling 877.960.5233 or by requesting a free consultation online here.