Choose Your Nursing Home Carefully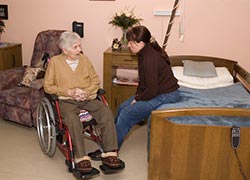 When your loved one can no longer care for themselves, whether it be for medical or mobility reasons, a nursing home might be a good option. Nursing homes are specialized care centers that provide medical and daily assistance to individuals who haven't the physical and/or mental capability to take care of themselves. This care is individualized for the patient personalized to each individualized needs.
News reports of negligence in nursing homes aren't new and, unfortunately, they may continue. Ensuring quality of nursing home staff is important for many nursing homes, however, making background checks mandatory for employees they bring in. If you're looking for a nursing home, you want to choose one carefully. This establishment will be taking care of you or your loved one, so you want to treat choosing a facility as you would choosing an employee.
When you go to nursing homes to ask questions and discover their policies, interview them on their employment program(s). Ask if they do regular screenings/background checks on nurses and other staff. This can go a long way in assuring you or your loved one is receiving the best of care by people who have consistently proven that they're capable of managing the care of others. Also ask about other things that may be important, such as the quality of their nutrition program, social life, and other programs offered by the facility that promote physical and emotional wellbeing.
Learn More
If you're seeking options for your parents who are entering a long-term care facility, you'll probably need to help when it comes to covering healthcare costs. The Elder Law Firm PC provides Medicaid planning and long-term care insurance advice for Michigan residents. If you have a question regarding Medicare, Medicaid, or any of your other options for long-term care, please call us at (877) 933-7252. Residents in the Grand Rapids area can also attend a free seminar led by attorney The Elder Law Firm PC several times a month regarding Medicaid planning. Call to reserve your spot at this exciting and informative event.